First-hand experience of the challenges created by learning disability and autism enables us to play a personal and rewarding role in the development of all our Members
 Looking Forward Activities are dedicated to providing high quality support for Members with Learning Disabilities and Autism aged 16+ 
The business was set up in January 2013 by Michelle Turner. Her insights into the issues facing people with learning disabilities are based on solid experience at both a professional and personal level. From the outset, Michelle has been passionate about providing meaningful, age-appropriate activities for people with learning disabilities. That includes workshops tailored to every individual's capabilities.
Understanding Learning Disability
Bringing up her own son Kurt – now aged 29 and with Down's Syndrome – has given Michelle a full understanding of the challenges faced by parents and carers. Her work experience includes time spent at the Carers' Centre in Northwich, Cheshire where she set up a befriending scheme to support carers who had lost their confidence and self-esteem.  Michelle has the Level 5 qualification in Social Care Leadership & Management – Advanced Practice
Prior to this, Michelle spent four years working for a Cheshire-based charity that promotes friendship and activities for young people with disabilities. It was this valuable experience that provided the business model for Looking Forward Activities. Among Michelle's many achievements at the charity were:
Delivering a range of disability awareness sessions for non – disabled students and pupils at local schools and colleges
Setting up various activities and developing the charity's activities in other parts of Cheshire
Starting a befriending scheme for young people with disabilities
Establishing and running a 10-week personal development course for young adults with learning disabilities
 Say hello to our Team!
What We Do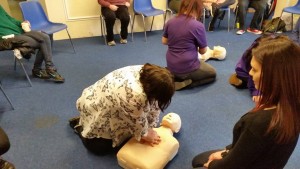 Looking Forward Activities has a growing number of Registered Members who take part in our Groups and Activities.
Our informal sessions are a great place for people to make friends, improve their social skills and – best of all – have fun! Day activities are based in Tarvin and Evening Activities are held out in the Community. Members have a big say in what they want to do.
The services of Looking Forward Activities are a credible alternative to Day Services or a Personal Assistant. We also provide one-to-one support and holiday/respite breaks.
TESTIMONIAL – Service User
Michelle since I started here it has brought my confidence. Thanks to you and your staff, you are all so special to me and when I am not here I feel sad and when I am here I feel happy.  You fetch the sunshine that is why I like you and your staff. S
TESTIMONIAL – Parent 
Your vision for the provision you provide is amazing. I'm so grateful to you and am thrilled for you that it is so successful.
my son has made some lovely friends through your groups. and your workers ( and yourself of course) are lovely. THANK YOU!!    Barbara, Holmes Chapel
TESTIMONIAL – Learning Disability Nurse
What you have created in Looking Forward Activities is brilliant!  Everyone is so happy when they are there and comfortable, it's been so lovely seeing their enjoyment and how they have grown in my short time there.  It's so refreshing to see happy, smiling faces in a service.  I salute you in your achievements.  Kirstyn, Cheshire West & Chester
Please Note:
Everyone who works with us undergoes rigorous background checks including DBS/police checks. We also provide compulsory safeguarding training in all areas of potential abuse. Needless to say, we have a zero-tolerance policy in these key areas of staff behaviour.  All staff have training in First Aid, Food Hygiene and have completed Health & Social Care Level 2 or 3 training.
If you have a learning disability or autism, or are a family member or friend of someone with a learning disability or autism, then you may be aware of the introduction of personal budgets.
You can now decide for yourself how to spend the money that is allocated to meet you needs, for example direct payments.
The aim of personal budgets is to give you control and choice about how you live your life.
We offer a range of  services that can help you live your life in the way that you want.
See attached factsheets: Cheshire West and Chester    Spending my Direct Payment    Cheshire East    Managing a direct payment chesh east
Funding
Services we provide can be funded by Direct Payments from Social Services or you can self fund
To find out more, please call Michelle Turner on 07511 189331 or fill out the form on our contact page here >