I am pleased to announce that due to the success of the AQA Award Scheme at Congleton, we will be introducing the Qualification into the Northwich Group in May this year.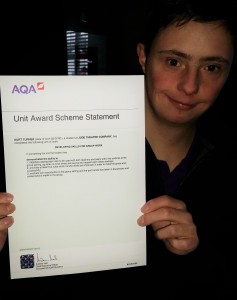 The AQA UAS is a scheme for recording achievement which gives the participant recognition for completing short units of work.     click on the link for more info…  http://www.aqa.org.uk
The AQA pilot scheme (through Jude Theatre Company) started in September 2013 at Congleton and will be introduced into other groups at a later stage.  Once our Members complete the AQA workshops, they receive Accredited Certificates to enhance their portfolio for future work opportunities.